You worked so hard passing the PMP test, why aren't you keeping up with your PDU's (professional development units)?
45 PMI PDUs in One Week
Yes, I posted 45 PDU's in one week.  I'm glad I started doing this and glad that PMI (Project Management Institute) accepted my hours of work on behalf of PMP students throughout the world.  I'll tell you more about my accepted PDU's later in this blog post.
Just remember, it took me 2 years of being a PMP, creating YouTube videos, doing webinars, and teaching the PMP to earn those PMI PDU's.
You Need 60 PDU's in 3 Years to Maintain Your PMP Credential
You passed the PMP.  Do you even know where to look to check on your PDU status?
You need to login to PMI at their CCRS portal (more buzzwords in your life).  CCRS stands for Continuing Certification Requirements System.
This is what the CCRS portal looks like.  See below.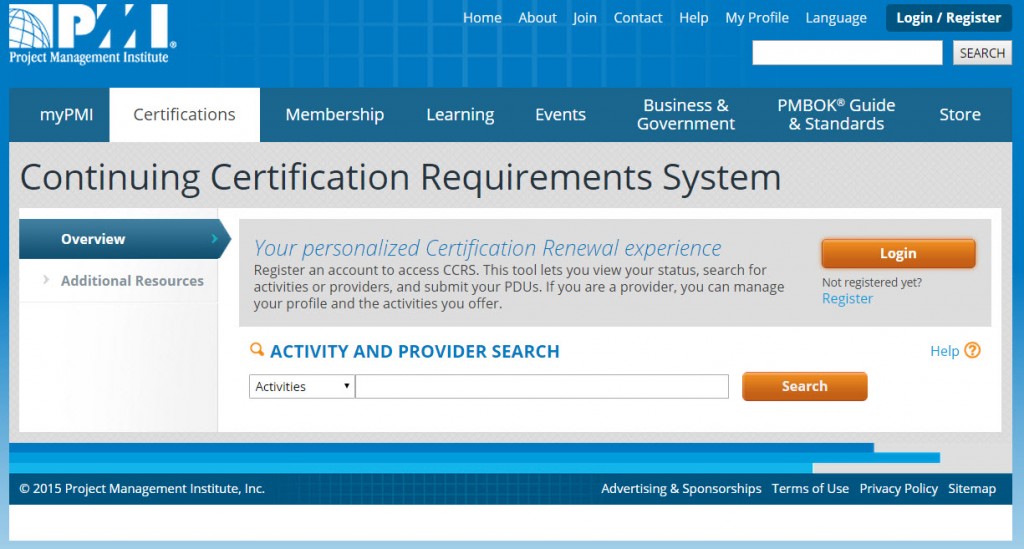 Unusual Ways You Can Earn PMI PDU's
I am grateful that PMI accepted my different methods of earning PDU's.  My current PDU status is shown below.

Two Unusual Ways to Earn PMI PDU's
Here are two methods you may never have considered on earning PMI PDU credits:  YouTube videos and Conducting PMP Study Group Webinars.
(Of course, you need to have a YouTube channel or know how to arrange webinars to earn PDUs the way I earned them.)
Create YouTube Videos for PMP Students
I've done about 15-20 YouTube videos on techniques for passing the PMP.  You can visit Richard Kraneis on YouTube.  Even though each video lasts less than 15 minutes, believe me when I tell you it takes about 3 hours minimum to thoughtfully plan and to create a good YouTube video.
Although I could have claimed 15 videos equaling 45 hours of work as PDU's, I just tried to claim one video.  And I am happy to report that PMI accepted my YouTube video as a qualifying PDU.  PMI granted me three PDU's for one of my YouTube videos.
But then, I guess you need to have a YouTube channel to be able to publish a YouTube video.  Do you have a YouTube channel you can use?
Host a PMP Webinar for PMP Students
In March I arranged and hosted three PMP Study Group Webinars discussing Identify Stakeholders, PMI's Code of Ethics, and Plan Communications Management.  I actually recorded my Plan Communications Management webinar for others to see (and as proof for PMI that I had done the webinar).
The webinar lasted 2 hours but it took 6 hours to plan the content of my webinar (this didn't include arranging the details for 9 students attending the webinar).  I claimed 8 hours of work for the webinar and again, PMI accepted 8 hours of my work as PDU's (thank you PMI).
Altogether, I submitted 3 of my webinars for PDU credits totally 24 PDU's.  PMI accepted all of my PDU's in this area.
But then, I guess you need to know how to host a PMP webinar to earn PDU's for the work.  Both planning and technology go into building each PMP webinar.  Of course, you need PMP students to do it.
Old Fashioned Way of Earning PDU's
I also taught a PMP class last year in 2014.  I taught for 54 hours even though my course prep time for teaching the PMP was probably another 54 hours.
PMI accepted 27 hours of my 54 hours as qualifying for PDU's.  I think I can only earn 45 hours of PDU's for teaching the PMP in various ways.
15 PDU's to Earn in One Year to Maintain my PMP Credential
That sounds more manageable then when I was facing the 60 PDU's in one year.
I guess I need to take some courses taught by other instructors or online to qualify for 15 more PDU's.
Can I Help You Earn Some PMI PDU's with Webinars or YouTube Videos?
So here's the punchline.
I plan on doing PMP study group webinars as an ongoing feature of this website.  If you think helping with a PMP study group webinar would be fun, why don't we try one together and see if PMI will accept your help as a PDU's?
Or, perhaps I can interview you as a PMP on YouTube and that will qualify as a PDU for you?
Why not join me in doing a PMP Study Group Webinar or for a YouTube interview?  It might be a fun way for you to earn PDU's doing something that you enjoy.