I have two PMP Study Group Webinars scheduled for May.
Are Network Diagrams Hard to Learn?
If you are a PMP student, diagrams like the one shown below should look familiar.  (Image courtesy of my son's smart phone.)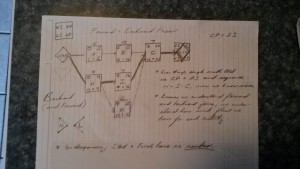 Maybe you need to attend my two May webinars on develop schedule, network diagrams, and float calculations?
Two Saturdays:  May 16 and May 30
Topic:  Develop Schedule Process, Network Diagrams, and Float
Recently, a PMP student asked me to tutor her in using network diagrams and float calculations.  She felt weak in those areas on her past PMP tests.
So in the process of training her, I have already devoted 10 hours of prep time to teaching what I think was the hardest topic for me on the PMP test:  network diagrams and float.
Dates:  Saturdays, May 16 and May 30
In my previous webinars, I would only teach one PMP process on one Saturday.  (You can watch one of my recorded webinars on I taught on the Plan Communications Management process webinar process.)
Time:  10 AM CST (Central Standard Time)
My webinar logins begin about 10 minutes before 10 AM CST.
My actual webinars begin at 10 AM CST.  My webinars normally last under two hours.
Why Two Webinars for only One PMP Process:  Develop Schedule ?
For me, in teaching a PMP class last year in Chicago, IL USA, I decided that teaching the Develop Schedule process was incredibly challenging because it also meant teaching network diagrams and float.  Network diagram math isn't terribly difficult, it's just addition and subtraction.  But the thinking that goes into using the forward pass and the backward pass can be confusing.
Also, since it's taken me 10 hours of prep time to teach one student how to do network diagrams and float, and it's already taken 75 minutes of training for one Skype client, I think it will take two webinars to teach Develop Schedule, to teach its non-math concepts, and to teach its math.
Do You Need to Learn Develop Schedule, Network Diagrams, and Float Calculations ?
That does sound like a boring topic, doesn't it 🙂
But learning those topics better prepares you for the PMP test.  And when you know what critical path really means, when you know how adding additional activities to a project can delay a project, it's incredibly empowering to your skill set and your confidence.
No, learning network diagrams and float calculations isn't boring.
I found it exciting studying those topics again and strengthening my skills.
Subscribe to Attend the May Webinars
If you are a customer already, you know my webinars will be $49 per month, a recurring fee.
Reserve the date.  If you're interested in attending my May webinars, just circle your own calendar and get ready.
Payment, coming soon.  My PayPal button is NOT ready yet but will be ready in less than a week.  So watch your emails.  When the subscription button is ready, I will email you immediately.
Thanks for Letting Me Teach You the PMP
I'm excited that my students from around the world are asking me to teach webinars.  It's been fun and exciting.  I thank all of you for giving me encouragement.
Leave a Comment
If you've never shown an interest in attending my webinars, and you DO wish to attend, leave a comment.  Thank you.