A great friend of mine (who became a psychologist at age 40) once said:
Rich, we are all afraid.  It's how we face our fears that matters.
Why are you so Afraid of the PMP Test?
Perhaps I can help you face your fears about learning and help you pass the PMP test.  Hope so.
What I Learned Teaching 10,000 People How to Use Computers
Years ago I taught over 10,000 people how to use computers in the Chicago area during the 1990's.
I taught adults from all over Chicago.  They were doctors, nurses, support staff, parking attendants, janitors, etc.  I taught people who had grown up rich and who had grown up poor.  I loved my students at Rush University, Illinois Masonic, and other hospitals.
I taught doctors who quietly said to me, "Richard, I've been a doctor for 30 years.  I hate that I have to learn all this computer stuff."
I taught people how to use computers and made them smile with pride from their success.
Some of my computer students came to my computer classes with lingering fears.  They thought they were too slow to learn computers.  Some attended lousy schools in Chicago and never had a good teacher.  Some claimed their math skills were too poor to use a computer well.
They had all kinds of excuses for NOT learning computers.
I tried to make the learning fun but I often told them in the classroom:
Leave your worries at the door.  I don't want you carrying your "adult learning baggage" into my classroom.  Let's "hang out" and learn computers.
What's Your Excuse or Fear for Not Passing the PMP?
So, what's your excuse?
Perhaps you're too old to study all this PMP stuff and pass a 4 hour test?
I don't care how old you are, have you seen my photograph?  I won't tell you my age but I've met only one person older than me who passed the PMP.  (My wife and children keep me young at heart, God bless them.)
So please don't tell me you're too old to pass the PMP test.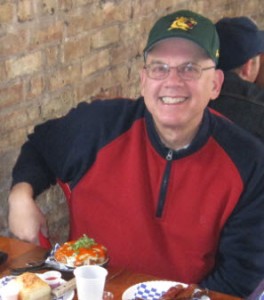 Older students are some of the most consistent, tough learners around.  You've raised kids, worked two jobs when you had to, you're unstoppable.  Yes, I believe you can pass the PMP test regardless of your age.
That PMP Math is Hard
Okay, maybe it's a little hard.  But most of PMP math is simple MDAS (multiplication, division, addition, subtraction).
PMP students often read all the material first and "say" they will do the math when they are near the end of their PMP studies.
Bad idea.  If a process requires learning a formula, learn that formula.  No excuses.
Other Excuses for not Passing the PMP?
I could go on with the excuses I have heard for how "hard" it is to pass the PMP.
After meeting various PMP students, after running two PMP websites for almost 2 years, I believe the biggest obstacle to passing the PMP is the person you see in the mirror each morning.
Leave a Comment – What's your PMP Excuse or Fear?
I honestly want to know what is your fear, excuse or greatest obstacle for passing the PMP.
If you leave a sincere comment I will do my best to email every person who leaves a comment.
Worried You Won't Pass the PMP Test?
Get some help.
Find a PMP who has passed the test and can give you guidance.  Start a PMP study group.  And if you really do need help passing the PMP on the First or Second time, please consider using my PMP Test Prep Service.
Best Wishes on Passing the PMP
The phrase "Best Wishes on Passing the PMP" is part of my email signature.  I mean it.
I want you to be a success, I want you to have the incredible joy of passing the PMP.
Thanks in advance for leaving a comment, thanks for visiting my website today, and thanks for reading I'm Afraid I Won't Pass the PMP.